Wrecker Service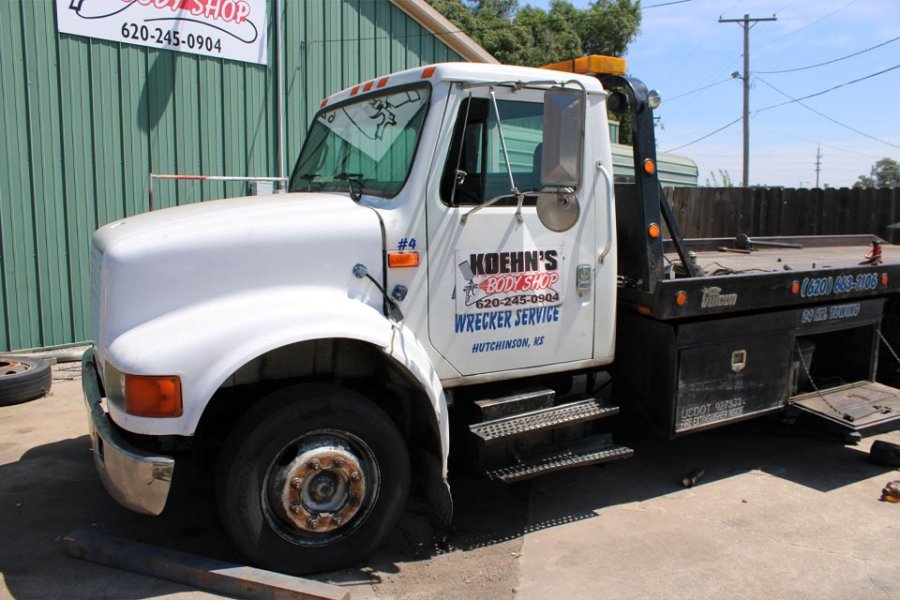 With a proven record of excellence in providing the drivers of McPherson with quality towing services, Koehn's Body Shop is a name you can count on. Did you just get into an accident? Did your car break down? Rather than spend hundreds of dollars on second-rate towing companies, call us for a fast, reliable, and affordable towing service.
Koehn's Body Shop—Fast 24/7 Services in McPherson
We are open 24 hours a day, 7 days a week, 365 days a year. No matter how bad is the weather or how inconvenient the hour, our dispatcher will answer your call and immediately send out a licensed tow truck driver and technician. Because we know that the side of the road is no place for you to be, we've worked hard to achieve one of the best response times in the business. Barring unforeseen circumstances, our tow truck driver will arrive at the scene of your accident or car breakdown within 30 minutes.
The mechanics, technicians, and drivers who make up the towing staff at Koehn's Body Shop are all trained professionals. We run background checks on every new employee, making sure he has a clean driving record and a verifiable employment history. All of our tow truck drivers and mechanics receive hours upon hours of hands-on training in the towing of vehicles both small and large. No matter what the size of your vehicle, our tow truck drivers will safely tow it the destination of your choice.
Affordable Wrecker Service in McPherson
Every week, we receive dozens of unsolicited thank-you notes from drivers all over McPherson. And it's no wonder, really: Offering the most affordable rates in the business, Koehn's Body Shop is a name you can trust. Hidden fees and commissions have no place in our transparent prices. You'll know exactly how much the towing service will cost before the tow truck driver arrives at the scene of your accident or car breakdown.